Where's My Refund – 3 Easy Ways to Know !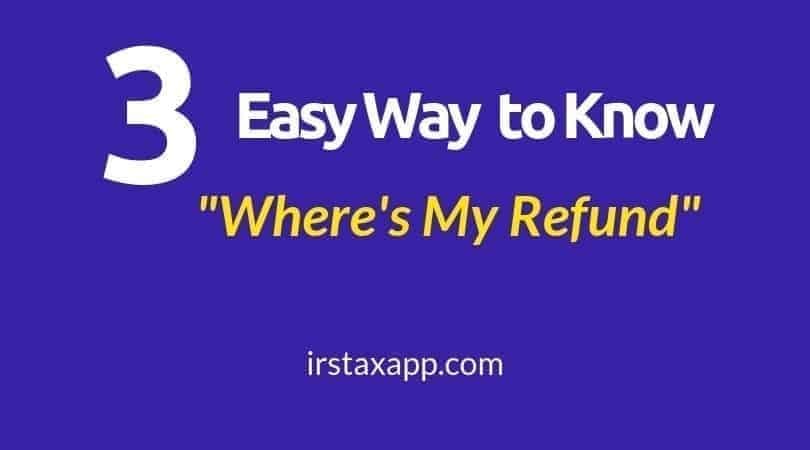 Once you file tax return , it is but natural for being anxious to get your money back as refund. In fact you should wait till your refund time has come as per this expected date for refund issue .  Here are three of the easiest ways , you can check out where's my refund status.
 Through Mobile App
IRS has released a very nice mobile app called IRS2Go – for android ,iOS and Amazon devices .  IRS advises taxpayers  to download the mobile app from Google play or Amazon or Appstore  .This app has refund status tracker and therefore allows you to check your refund status, make a payment, find free tax preparation assistance, sign up for helpful tax tips, and more! You can check the status of your federal income tax refund within 24 hours after IRS receives your e-filed return, or about four (4) weeks after mailing your paper return.

Visit online page for checking refund status . You will need  certain  details required as input for checking the the status of your tax refund. So . have you social security number or ITIN, your filing status and your exact refund amount as per return near you.
First wait for at least 21 days from the date of efiling your tax return  because that is the time IRS generally takes to issue refund . However , in certain cases , IRS may take more time . IRS suggests that you should only call if it has been:
21 days or more since you e-filed
6 weeks or more since you mailed your return, or when
"Where's My Refund" tells you to contact the IRS
The toll-free phone number for inquiry about refund status  is 1-800-829-1954.You can check on your refund in either English or Spanish.
You can also  call 1-800-829-4477 to reach the IRS TeleTax System and check the status of your tax refund.
Video released by IRS on where's my refund